Today is the start of Carnival, the big party before Lent. The 
official
 start date of Carnival is actually in November, but nobody would really realize since the festivities and street celebrations start today.
You may know Carnival better by the term Mardi Gras.
When I was fresh off the plane from the US, it happened to be the first day of Carnival celebrations. My train ride from Frankfurt to Düsseldorf was quite amusing and strange all at once; people dressed as farm animals and singing crazy songs. I especially remember the giant, pink pig in my train car.
Other than singing animals, what makes the story even more amusing is that I didn't know it was Carnival, nor what Carnival was. Imagine wondering if this was a regular train ride in Germany. And if so, wishing I'd packed a herding stick instead of Lederhosen. Ok, so I don't really own Lederhosen.
Carnival was quickly explained when I arrived in Düsseldorf and next stop was a children's parade where we handed candy out as the children walked by in their costumes.


And then suddenly there was a little girl screaming in my face, "HELAUUUUU!"
I paused for half-a-second with a puzzled look on my face thinking, "Why is this girl saying 'Hi' to me?" and then quickly screamed back, "HELLLLLOOOOO!" only to be met with laughter from my husband.
"No, it's Helau! It's a Carnival saying."
"That's what I said, 'Hello.'" My English ears couldn't hear the difference, kind of like the kid in Goonies saying "Booty traps."
"Helau!" is the loud greeting used for Carnival in the area in which we live and it means, "Hurrah!" Cologne uses "Alaaf," which means, "Cologne above all!" Cologne is one of the most famous cities for celebrating Carnival in Germany. I'm kind of bummed that I'm not there, but such is the life of a dedicated mother.
On the news this morning they showed a bunch of shops closed in Cologne, but most importantly it is tradition that on the Thursday before Ash Wednesday, it is "Women's Carnival." If men are wearing ties, the women get to cut them off. I have yet to partake, but I would love to cut some ties. And no, that is not a pun.
Also, the women get to kiss any man they want. My husband stipulated only on the Thursday and only on the cheek. I told him I'm pretty sure I have a pic from 2010 of a lady kissing a guy on the mouth and it was a Sunday. My husband said maybe she was still drunk from Thursday.


After careful examination of the pic, maybe it wasn't a kiss on the mouth and well… I just realized I could make a great "your momma" joke, if it weren't for the fact that it is my mother-in-law in the pic. Duh-oh!
Is it wrong to take advantage of my parents-in-law not being online users? I'm thinking…maybe?
This is now my third Carnival in Germany, and to give everyone an idea about what happens, it is similar to Halloween in that there are costumes and candy, but that is where the similarities end.
What I love about Carnival:
Costumes: As adults, we still get to dress up, but the costume choice should be something to keep us warm while standing outside and watching parades. This means as women, we don't really get the freedom and fun of dressing up like Playboy Bunnies, Naughty Nurses, or Slutty Pumpkins, or…Oh, we aren't supposed to like dressing like that? Ok, I mean we get to wear a lot of clothes and drink lots of beer to stay warm.
Candy & Surprises: Carnival is kind of like the lazy person's Halloween; instead of knocking door-to-door to beg for candy, which, by the way isn't deemed appropriate for adults, at a Carnival Parade you can just stand there and be showered with not just candy, but also fun items like hand warmers, chips, and last year I was thrown a changing mat for the baby. There are also sometimes people walking along certain floats handing out beer or small bottles of alcohol.
Music: Instead of Michael Jackson's "Thriller," or Waren Zevon's "Werewolves of London," we get to hear what sounds like folk singers all hopped-up on sugar. Yes, I love it.
Food & Drink: Everyone doesn't seem to care too much about the music because typically there is someone selling wurst and beer within a moment's glance. Drink enough and you too will be singing along in any language.
Here is a quick sample of the music. Proud to say this is my father-in-law singing and dancing on one of the floats from his city, also from 2010. If you listen closely, you can hear people yelling, "Helau!" at the end.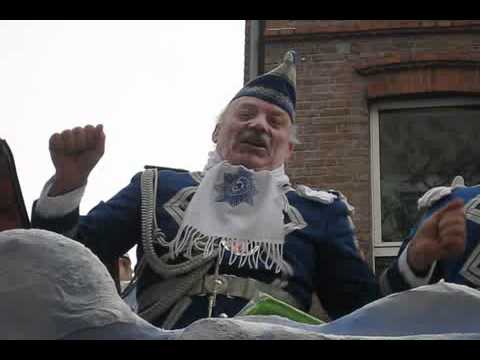 And finally, the Germans are so efficient that after the parade goes around twice, yes twice (that's what they do in Ratingen), the street sweepers immediately drive through destroying any evidence that a huge party just occurred in the street.
Maybe Carnival isn't exactly Halloween, but it makes a pretty good substitution…at least until we make Halloween an annual celebration in Germany. Who's with me? Mwa-ha-ha-haaaa!
For now, "Helauuuuu!" from Germany.