Yesterday, we covered a little bit about 
German beer
. Hope it wasn't too boring only talking about four ingredients.
I am, however, amazed at how many different kinds of brews the Germans can make with only four ingredients. They do get some creativity points for trying to build a rocket having only been given tape, rubber bands, glue, and carbonated water.
So German beer may be on the far right of the beer spectrum and on the far left…Belgian beer.
My first introduction to Belgian beer was prior to the first beer nerd's visit. She had asked my husband and me to find her a specific Belgian brew she wanted to try, which we were only able to find by going to the brewery itself.
Not a problem, we had a lovely day trip to Brussels.
When we got to the brewery, I was surprised to see that this particular Belgian beer was packaged and served like wine. My husband and I are very open-minded, but I don't think my husband as a German could quite bring himself to drink it. I was the only one who tested the beer because "he had to drive home." I still laugh when I hear the excuse because he didn't even take a little sip.
I was carrying my baby in a harness inside this Belgian brewery, so we unfortunately didn't have time to do the tour. But while in the tasting area, I didn't feel awkward having the baby there. In fact, most people were "Awww-ing" at the sight of him.
This left me wondering if it was a European thing, just a Belgian thing, or maybe they were just too drunk from taste testing to think anything was odd.
If my American friends had seen, it may have gone something like the scene in Sweet Home Alabama with Reese Witherspoon, "You have a baby…in a…bar."
Silly Americans, just because there is a baby in the brewery doesn't mean he'll be drinking…there is plenty for everyone though.
Ok, so not all Belgian beers look like strawberry wine.
In September, when the beer nerds arrived to Germany, I was excited that my husband's Belgian friends came too. They brought Belgian beer and glasses as gifts. I had never had Duvel or La Chouffe before.


Duvel is a blond beer with 8.5% alcohol.


La Chouffe is also a blonde beer, but with 8% alcohol.
I think the glasses were my favorite part. I sometimes drink German beer in them, but sshhhh, don't tell. I'm sure that's violating one of the 7 deadly German sins.
I noticed at the party, the Germans weren't touching the Belgian beer, but the Americans didn't care. Not only did we enjoy it, but the alcohol content was even higher than the German beer. Woo-hoo! More bang for our buck! 


Here are our Belgian friends with the beer nerds, and if you look closely, you can see me in the upper right making a funny face, probably just yakking away. Also, two of the Belgians are drinking German beer. Interesting what photos can document.


To the left is my absolute favorite. Liefmans Cuvee – Brut (6% alcohol). It is also a Duvel product, is only made in the month of July, has cherries added to it, then must forment for 18 months to 3 years. We can't seem to find it anywhere near us in Krefeld. It opens like a typical champagne bottle…but I can't stand champagne, so I personally just tell myself it is an authentic Belgian "beer."
The Liefmans to the right is similar to the Brut, but it is actually Ale with fruit and has 4.2% alcohol. Seems kind of wimpy compared to the rest, huh?
For any American's who want to try Duvel Beer, it is sold in the US. It may taste a little bitter at first and the color isn't like those watered-down American things, but I enjoy it.
Some German friends tease me and say I am old by German standards because:
1.)    I like Mercedes – And only old people drive those.
2.)    I know how to Knit and Crochet.
3.)    I drink and like Belgian beer.
Ok, so it's really all fun and games. There isn't a huge rivalry between the Germans and the Belgians with beer, but Germans do seem to stick to drinking what they know.
Since yesterday's post, my husband informed me that the Alaskan Amber in the US is the closest to his favorite beer in Germany, Diebels Alt.
I also learned that last Wednesday, a waiter in Germany didn't seem to give poor Chancellor Merkel a heads up, let alone enough time to drink the five beers he had to offer.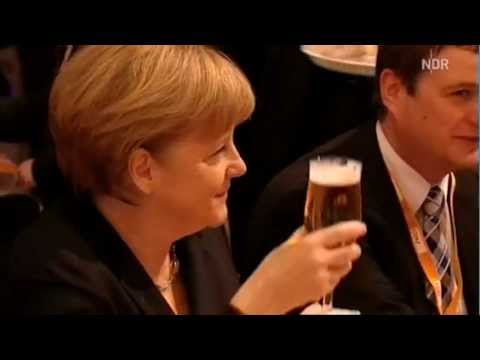 Back to you, Germany.