Tonight we went to the Presidents of the United States of America concert in Eindhoven, Netherlands.
I have to admit I was feeling pretty old tonight. We left the house leaving my mother-in-law in charge of the kiddos.
But, a cool tidbit about Germany…I was able to crack open a beer as the passenger on our drive to the concert. It was exactly a 100 km (62 miles) drive from our house.
We arrived early (another indication of being old) although the doors had already opened. Our parking place was really only a couple hundred feet from the entrance. I think most people had taken public transportation or something.
The venue was the best size. Not too big and not too small, plenty of room for everyone to stand comfortably. (Another reason I love my husband, he knows how to pick the best concerts.)
I guess I can't be too old because I was still able to snicker at the people wearing ear plugs, so either I'm still young enough to laugh at these people, or I'm already so old that I've lost my hearing and earplugs wouldn't help anyway.
And then the opening act came on… Straight Lines. A band from Wales. LOVED THEM!!!! This was their first concert in Netherlands/Mainland Europe. The crowd could have been a bit more enthusiastic while they were playing, but despite the Debbie Downers, they really did an awesome job. And yes, for the tall people, this is what it looks like for a short person at a concert. 


Then came PUSA. This was my first Presidents of the United States of America concert. My husband has seen them three times. This is a near and dear band for us since we like to listen to them in the car often and they are originally from Seattle.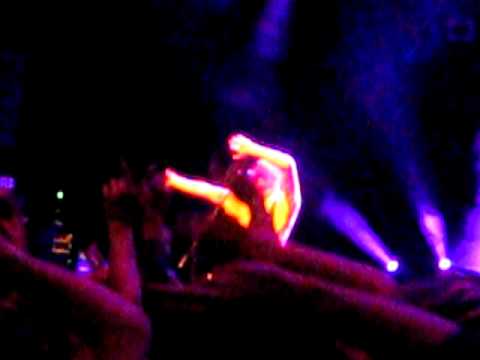 Also, we had met Chris Ballew in the US after a Casper Babypants (Christ Ballew's children's music band) show in Washington State last year.




The baby seemed to love the music and one of our daughter's favorite Casper songs is "Free Like a Bird."


I don't know if I still had a bad taste in my mouth from that meeting, but I just wasn't feelin' it tonight. They put on a no less than awesome show (I wouldn't go so far to say "Stellar"). They played their entire debut album. The crowd was bouncing around and the enthusiasm was more than present.
So why was this old fuddy-duddy not feelin' it? Maybe not enough beer beforehand? Every live show I have been to, I have only fallen in love with the band more. And I wasn't the oldest person there tonight, by the way.
I guess, some people I feel an instant connection with and others I don't. I think meeting Chris Ballew in person ruined it for me! It was like the mystical music veil had been removed. He wasn't mean or anything… it was just awkward.
I still had an awesome time tonight. I did enjoy the music despite not being in love with Mr. Ballew. But I feel like this is a weird breakup… it's not you, Chris. You gave an awesome performance. Really. It's me.


Maybe I just fell more in love with Straight Lines?! Or I'm just too old and am now picky about the concerts I see.
I have a friend back at home that went to see a concert a few years back and bought tickets just to see the opening act… then left before the main performance. At the time, I thought, "What the heck?"
Now, in my old age… I get it.
Straight Lines… You rocked! I can now say I believe there aren't just sheep in Wales. And, I did buy their CD on the way out. I am so old. But, I was wishing I had waited around like a true groupie to try and get a pic with them before parting ways.
So… Straight Lines, if you're reading this and ever in Germany playing, let me know. You guys were great and the guy selling your CD was pleasant too. And we listened to your CD in its entirety on the drive home. Favorite songs: "Say it for your sake," and "Set me on fire and feed me to the wolves." I think the connection was there. Music connection, folks. I'm not a weird music groupie stalker.