When I lived in Washington State, one of my favorite outdoorsy things to do was go quading. Whether riding in the dunes in Washington or Oregon with a group of friends, or throwing dirt on the trails, motorized 4-wheelin' was a hobby and a sport.
This may be boring for some, but this is a video of me popping my first wheelie in wet sand a few years back.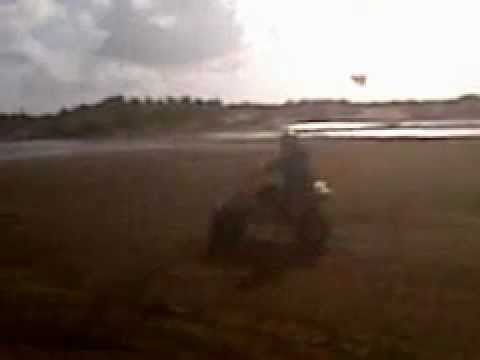 When I moved to Germany, I got excited each time I would see a quad riding through the streets of a city; I still find it so weird yet cool all at once.
Unfortunately, I don't own a quad for sport or for city driving here. Where there once was motorized fun is now a self-pedaling Huffy. Ok, not really a Huffy, but it may as well be, right?
Last year I bought a bike that was on sale, but only got to ride about three times since Fynn was too young to bring with. We also bought a used child's seat from the neighbor and I was waiting for Fynn's little noggin to get big enough to strap on a helmet.
Alas, this Spring, we finally were successful.
Yesterday was our maiden voyage. I was a bit nervous since I hadn't ridden on two wheels much since childhood; now Fynn would be on the back to add to the pressure, and German's have so many darn rules that I was and still am afraid of unknowingly breaking some.
We went on a family ride: Kay, Sophie, Fynn and me. I thought for sure it would be best if Kay led and Fynn and I followed. Sophie would be riding on the sidewalk since she is eight and not allowed to ride on the road. Kay just informed me that, she is allowed to ride on the road but can choose between the two.
We went for an almost two-hour ride, mostly on trails. I'm still nervous to take the streets especially since I have a baby on back. We also rode through some of the German gardens.
At one point I thought I should be pedaling with a basket and Kermit the Frog inside. I also envisioned Kermit the Frog and Miss Piggy riding side-by-side singing "Why do birds suddenly appear…every time… you are near…" So what does that say about Kay and me? Hm? (Insert Muppet montage here.)
Again, today we went for a ride, but just me and Fynn .
Beforehand, while Fynn was napping, I asked Kay to translate some of the German bike rules. He really didn't tell me much more than I already knew. Follow the rules of the road as if you were driving, lights are required (not on, but must be ready to use), a bell on the bike…Ok, I did learn some new stuff:
Bells are required, but no horns are allowed
No phone usage while riding (not even to check the time)
Signaling is different than the US (you use either your left or right hand to point in the direction you are turning. As opposed to only using your left hand in the US.)
When towing a bike trailer, no more than two children are allowed in a trailer
The maximum age for a child in an attached bike seat is 7 (although I think weight restrictions of the seat would make it sooner, right?)
If your bike has a technical defect, you are not allowed to ride it, but walking alongside it is ok
Feet must stay on the pedals unless street conditions make it necessary not to (no riding along with your feet hanging out)
One hand riding is allowed as long as you have the bike under control
Riding with both hands off the handlebars is not allowed
Two brakes are required
Side-by-side riding is not allowed unless on a wide enough street
After dinner we made another family ride to bring Sophie back to her mom's house.
After quading so many times in Washington, I really should take my own advice. Most biking accidents seem to happen either at the beginning or the end of the ride. The men used to get so excited when they hopped on their quads, they would tear-off into either the dirt or the sand and just go crazy, not thinking, and end up doing something really stupid that often times resulted in a hospital visit.
And if it wasn't at the beginning, it usually was at the end. The triggering words always seemed to be, "Ok, let's turn around and head back to camp," much like horror films make fun of the statement, "I'll be right back," indicating that the next fatality was about to take place.
The men would want to get one last "big jump" or "awesome trick" before ending the ride and again… do something really stupid. I attributed it also to the fact that the body is just too tired to complete what the mind intends.
I can't completely make fun of the men because I had made some pretty stupid mistakes myself. Like the time I tried to jump a dune and ended up biffing it big time. I flipped, the bike flipped, and everything was just topsy-turvy.
I thought I could get the bike back on four wheels, climb aboard and catch up to the guys before anyone would notice. Not so lucky. One of the guys saw my bike all turned sideways and immediately came to help. Instead of going unnoticed, I felt like a jostled, knocked-around, ninny.
So today, the family ride to take Sophie back to her mom's house was after dinner (we post-poned Fynn's bed time) and my body was already tired from the day before and the ride earlier in the day. Not to mention my booty-bones hurt while sitting on the seat.
We pulled up to a crosswalk light; Kay and I briefly switched to the sidewalk since we were just around the corner from the house and I went to hit the crosswalk button while still rolling forward (mission accomplished, button pushed). And then I went to put my feet down at the same time as slightly turning the bike.
What happened instead was the weight from the back of the bike (a.k.a. Fynn on board) and the lack of my weight on the seat sent the back end turning sideways. I was thinking, "WHOOOAAaaaa…" and I heard Kay making a scared, freaked-out noise from behind me as the bike almost toppled to the ground.
Super Mommy to the rescue. At the last second, I somehow maneuvered and kept the bike from tipping. PHEW!!!! I let out my nervous laugh. That was a close one. Kay laughed also which prompted Fynn to start laughing.
On the way back, Kay made me feel better about my fear of breaking some unknown German biking rule.
He was not only riding on the sidewalk next to me, but then in an attempt to beat me back to the house cut through a green field completing the hypotenuse to my triangle. I obviously wasn't going to follow since the bumps in the fields would have sent Fynn into a bouncing frenzy.
But…I guess 4-wheel driving is possible on two wheels in Germany.