How come I never realized how many references to Germany exist in primetime television?
Once I moved here, I suddenly noticed… with a little help from my husband who gets overly excited any time he hears or sees a reference.
As such, here are my favorite and most memorable references within the last 2 years.
5.) Two and a half Men – Kay was actually the one who pointed out that Charlie Sheen is always drinking the German beer, Radeberger. I guess not anymore after "winning" and being replaced with Ashton Kutcher. Unfortunately, I haven't seen any new episodes as of yet. While the video is dubbed in German, at least the Americans can sympathize with my language struggles. In fact, I couldn't even tell you what everyone is saying.
4.) How I Met Your Mother (HIMYM) – Season 7, Episode 5 – "Field Trip"
While Ted is leading a city tour on architecture, the tour is so boring that students start to disappear but mysteriously a German family joins. When asked who likes David Hasselhoff, they energetically raise their hands. Mr. Hasselhoff must be big in Bavaria or something because he doesn't exist in Nordrhein-Westfalen.
In Season 5, Episode 12, "Girls Versus Suits," Barney is wearing a shirt that says, "Die Neue Wohnung," which is an old German book and it means, "The New Apartment."
In Season 3, Episode 10, "The Yips," German model, Heidi Klum guest stars.
And in Season 1, Episode 16, "Cupcake." Robin talks about German guys. (With all these German references, no wonder Germans love HIMYM.)
3.) 30 Rock – Season 2, Episode 10 – "Episode 210"
While in the middle of a business deal with a German television company, Liz Lemon confuses the German words, "Verkaufen" (to sell) with "Kaufen" (to buy) and thinking she has bought a German Television station but has actually sold NBC in its entirety instead. In another episode, while not featuring Germany, the plot involved an Austrian prince and Liz Lemon tries to speak German.
2.) Glee – Season 2, Episode 11 – "The Sue Sylvestor Shuffle"
Sue Sylvester: Ladies, my "Sue-clear" weapon. (Combo of Sue and Nuclear). Becky?
(Becky breaks a bottle against the cannon)
Sue: Britany, climb on up…Congratulations your doing this stunt for the big competition.
Britany: I don't want t o die yet…At least not until "One Tree Hill" gets canceled.
Sue: Fine! To put your toddler, fist-size mind at rest, we'll do one final test run.
(Sue jams a dummy doll in cannon. Hits the launch button and the dummy comes flying out and ripped apart into several pieces.)
Sue: Any of you take German? You may have to read the owner's manual.
(Britany bends down and picks up the head to the dummy.)
1.) The Big Bang Theory – Season 1, Episode 11 – "Pancake Batter Anomaly"
This episode is probably most famous for the introduction of the "Soft Kitty" song, but Sheldon also makes reference to Deutschland while he is sick.
Sheldon: You're going to leave me?
Penny: Sheldon, you are a grown man, haven't you ever been sick before?
Sheldon: Well, of course, but, not by myself.
Penny: Really, never?
Sheldon: Well, once. When I was fifteen, and spending the summer at the Heidelberg Institute in Germany.
Penny: Studying abroad?
Sheldon: No, visiting professor. Anyway, the local cuisine was a little more sausage-based than I'm used to, and the result was an internal blitzkrieg with my lower intestine playing the part of Czechoslovakia.
Also on The Big Bang Theory – Season 5, Episode 14 – "The Beta Test Initiation"
While videotaping a scene for his vexillogy program entitled "Fun with Flags," Sheldon introduces the Bavarian Flag while dressed in Lederhosen and Amy is wearing a pretzel costume.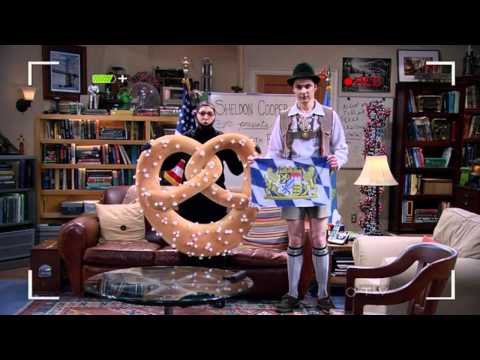 While some of these episodes are further back than two years, keep a look out in your favorite shows for a German reference. If you can think of any or see any, feel free to post them below.