Have you ever had one of those days where you just felt like something big was going to happen? Like you were going to see something you weren't supposed to?
Today we went to the Fortuna Düsseldorf vs. MSV Duisburg soccer (Fussball) game and I was excited to see the last game of Fortuna's season. The tickets were actually a birthday gift to Kay, but I felt like it was my birthday gift too since we were going together.
Lately the German media has been making a hype about Fussball fans in Germany becoming a bit more aggressive than normal. As such, my senses were a bit heightened as I was, "Paying attention to my surroundings," like my momma always told me.
On our way to the stadium, Kay pointed out several police escorts; we were still in a neighboring city, but there were two motorcycle officers in front of two buses, we assume, going to pick up a group of Duisburg fans.
And then there were motorcycle cops on each corner just down the road. 
As we got closer, I heard over a loud speaker, "Fortuna fans to the right, Duisburg fans to the left" (in German, of course). And this was just parking, not even entering the stadium yet.
Once we were in the stadium, it became abundantly clear that the seats immediately next to the Duisburg fans were not open to be sold. Security personnel lined the border of each side. 
Then a group of police officers (helmets in lap) were next to the security gaurds. 
In one section, however, it appeared that fans from both sides were sitting together in perfect harmony. 
But the rest of the stadium was decorated all in red for Düsseldorf.
At the beginning of the game, the Duisburg fans immediately lit up a bunch of fireworks. 
Me: Oh, my!
Kay: Yeah, Duisburg has always kind of been known as not being on their best behavior.
Me: Will they escort them out once the smoke clears?
Kay:  I'm not sure.
The answer was no. There weren't any repercussions from these fireworks, unlike the last Fortuna game I attended.
This game felt more intense than any other I have attended. Fans were serious about the game yelling to the players, "Schneller!" and "Weiter!" (Faster! and Keep going!); there was more sitting and standing than a Catholic mass.
At the end, everyone was on their feet.The final score was a tie, 2:2. And I thought, "Phew!" Because if one team actually won, I was afraid of how the fans were going to react. The Duisburg fans looked really aggressive on their side, but there were so many Fortuna bodies.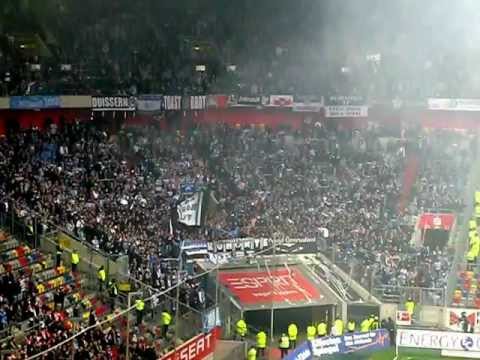 Everyone stayed a long time to celebrate. Celebrating a tie?
Ok, it was also because "Fortuna assured themselves two relegation matches which (if they win against Berlin) will promote them to Bundesliga, Germany's premier soccer league," but I won't bore you with more details. (Um, the quoted portion above was actually written by Kay as he needed to correct my original inaccurate sentence. So… sorry for the long, boring, but highly accurate explanation.)
Fortuna fans stormed the field just after security had created a wall of bodies to block them from going too far. The police also came on to the field, and there were about 8 police dogs assisting.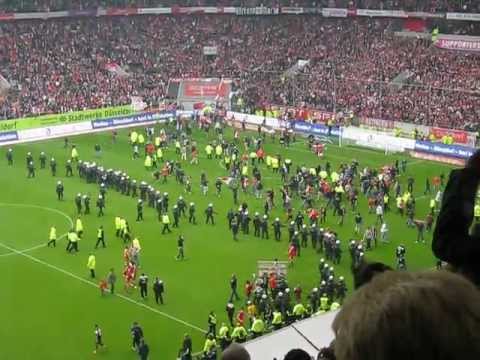 At no point did I worry for my safety though.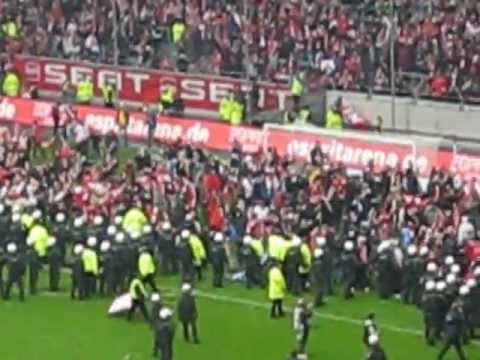 And then some stupid people started climbing onto the goal. At which point, Kay asked if I was ready to leave.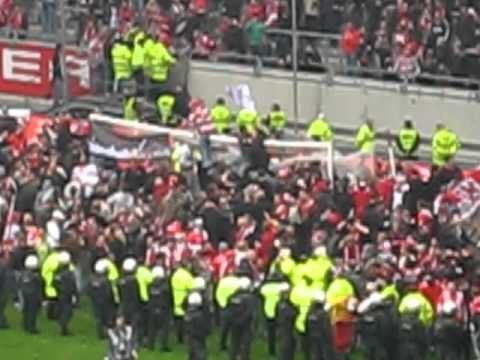 En route to the car, everything seemed to be going smoothly, until we were just about to cross the street to go to the parking area. I noticed Kay was completely distracted… and then I witnessed the physical ending to the verbal quarrel he was already hearing and eyeballing.
A Skinny Kid bitch-slapped a guy wearing a Fortuna shirt; they both looked around the age of 17 or 18 and were both Fortuna fans. I refer to him as "Kid" because he definitely wasn't acting like an adult.
Apparently Skinny Kid was upset that a Duisburg fan was walking along with the Fortuna fans. The Fortuna Shirt Guy just wanted Skinny Kid to leave his Duisburg friend alone.
After the bitch-slap, the Fortuna Shirt Guy was doing his best to control his anger and his father was motioning him to let it go. Meanwhile, the Skinny Kid kept getting in Fortuna Shirt Guy's face as Skinny Kid's Jerry Springer-esk girlfriend was trying to push Skinny Kid away.
Skinny Kid was walking backwards all of this time.
The next thing we see is the Fortuna Shirt Guy returning the bitch-slap. Well Skinny Kid was apparently too drunk to be walking backwards while receiving a bitch-slap. He fell like a stiff board. It was like he was out cold before even hitting the ground; at no point did he reach out to catch himself.
The sound of his head hitting the pavement made a loud crack. And my jaw dropped because I couldn't believe not only what I had seen, but what I had heard.
And then… no movement. Completely no movement. My first thought, "He is dead. Drunk Skinny Kid killed by bitch-slap."
I was thinking, "If this kid is dead, not only did we just witness his death, but the guy who bitch-slapped him… he wasn't even trying to really harm this kid… it wasn't a punch, it was a bitch-slap… and in one split second his life could be changed forever."
I certainly have no medical experience, but Kay and I didn't want to just leave. A few other people came over to attend to Skinny Kid.
And then, as Fortuna Shirt Guy was walking away, he stopped. He and his group waited. We must have been there about 10 minutes and no sign of ambulance or police. Talk about awkward moments, but it was the right thing to do, despite having handed out a bitch-slap.
I just kept asking, "Is he breathing? Is he breathing?"
To make a long story short, yes, he was breathing. And there thankfully wasn't any blood.
And then, still no ambulance or police, and Skinny Kid actually woke up.
I am thinking, Phew! He isn't dead. He isn't in a coma. Ok, we can go.
And then Skinny Kid bounces up like a monkey on crack, pulls off his shirt screaming about "Fortuna!" and is violently looking for something or someone upon which to unleash his anger.
"This kid is not right in the head."
There is a joke in English that hitting your head might actually knock some sense into people. Well, either this Kid is beyond knocking sense into or he just wasn't hit hard enough.
Fortuna Shirt Guy backed further away and his mother advised him to call the Police.
Soon the ambulance arrived.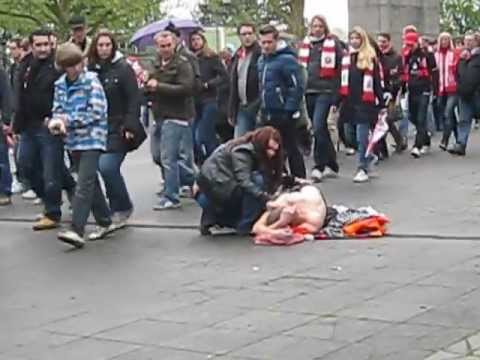 At this point, Kay and I took off. Skinny Kid wasn't killed by bitch-slap. We can go.
As we were driving out of the parking lot, we saw Fortuna Shirt Guy leaving with his family, so the Police must have told him he could go.
But what a stupid thing to almost lose your life over. Obviously Skinny Kid not only has an alcohol problem, but needs some anger-management courses as well. It is only a soccer game for Pete's sake, not something worth dying for.
And hopefully Fortuna Shirt Guy now knows the power of a bitch-slap.
It's all fun and games until it ends in an almost-death-by-bitch-slap Knockout.
On a lighter note, below is a video of Düsseldorf fans singing what translates to, "Days like this… Should last forever." (Totenhosen – "Tage Wie Diese")
Because being an America, everything should end like a Disney fairy tale.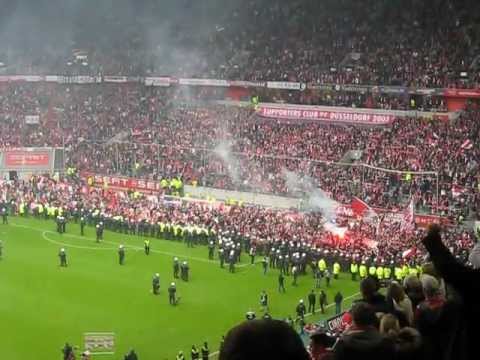 And because my husband is a baby… I mean complete romantic, this goes out to you, Kay (plus he wouldn't plug Expat-Mom on his FB page unless I added it).